Quick summary: I've been using Elementor Pro for about a year and a half now. Before that I used Elementor free for several years and was always too cheap to upgrade. I always wondered if Elementor Pro was worth the expense. And now without a doubt I can tell you that Elementor Pro is definitely worth it. I should have made the switch to Pro much earlier. Elementor Pro makes designing websites fun again. It removes all of the technical hassle and lets you focus on creating sites exactly how you want them to look and behave.
You only have a fraction of a second to make an impression with your website. For this reason, having a well-designed site is essential. While you could hire a designer to make a custom site for you, many opt to go the easier route by building their site on WordPress. In fact, nearly 40% of all websites use WordPress. Tools like Elementor make it easy to make a beautiful site that will load quickly and keep visitors' attention for longer.
Elementor is a website builder platform that provides users with the tools to make a responsive WordPress website. The basic drag-and-drop system is free, but themes, templates, and tools are limited. To unlock your website's true potential, you'll need to go with Elementor Pro. The question is, is Elementor Pro really worth it?
Why Is There So Much Hype Around Elementor Pro
Elementor is the perfect tool for beginners and experts alike. The free version can be used to get familiar with the system and its functionality. However, while you can create a functioning website with the free elements and templates, your options and tools are limited. If you want advanced functionality or marketing tools, Elementor Pro is the solution. Here are some of the most impressive things about the Pro version of this hyped-up website builder.
Quick Design With Drag & Drop Interface
Elementor Pro Is an ideal choice for beginners and experts alike. Even if you are not familiar with coding, as long as you can click and drag, you can make a dynamic and responsive website that fully meets your needs. The drag-and-drop interface lets you visually make adjustments to your site's overall design, giving you the ability to easily customize the hundreds of templates available.
Custom Experiences with Dynamic Content
User experience plays a crucial role in the effectiveness of your website. Using dynamic content, you can create custom experiences for specific types of users so that users can quickly access content relevant to their needs. Elementor Pro makes it easy to design templates that can be used across your site for every post type, eliminating redundancy in the design process. To help you get the maximum functionality out of your website, Elementor Pro also works in conjunction with several major WordPress plug-ins such as WooCommerce, ACF, Toolset, and Pods so you can quickly create the exact site your customers need.
Widgets for Full Customization
In addition to dynamic content, the 90+ widgets available with Elementor Pro let you further enhance your site to improve the user experience. While the free version does give you quite a few widgets, the Pro version comes with even more. These widgets let you quickly build forms, add menus, create slideshows, and integrate interactive call to action boxes to improve your conversions. To make life simple, it also works in conjunction with other popular services such as MailChimp, HubSpot, ConvertKit, etc. Many of these ranges are designed to help make your site more eye-catching, which in turn leads to more time spent on your site and more clicks.
A Library of Over 300 Templates
The extensive collection of templates available in Elementor Pro lets you create a professional-looking website in a fraction of the time. Templates are available for every aspect of your site from page templates to pop-ups. These templates are well-organized by industry, and the entire library is updated regularly. The Pro version of Elementor gives you access to even more templates, including ones specifically designed for various holidays such as Black Friday and Christmas. Using these holiday-themed templates for your marketing pop-ups, sliders, etc., makes it easy to keep your site looking current.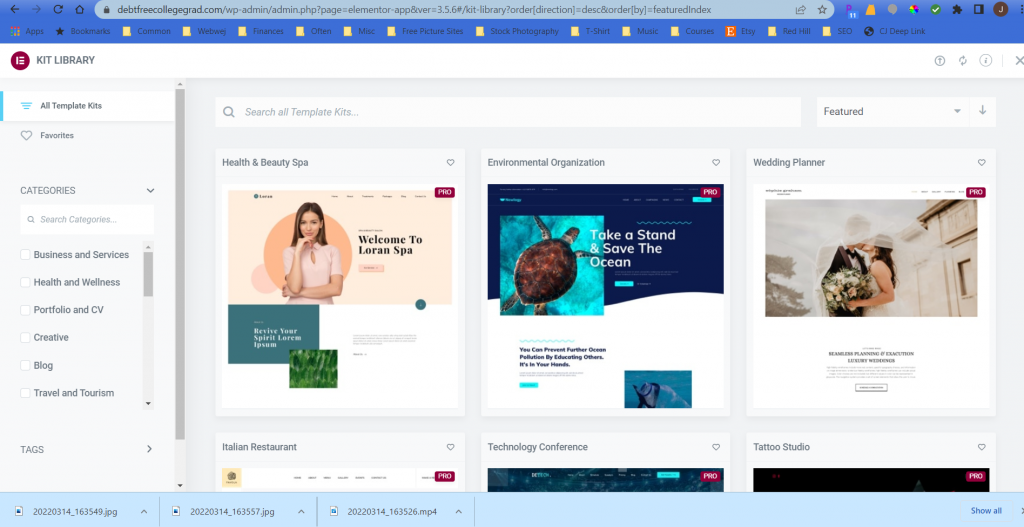 Tools Designed for Marketing
Elementor understands that your site is more than just a storefront. It is a direct line of communication with potential and existing customers alike. For this reason, Elementor Pro focuses heavily on giving you the tools you need to market your products and services. The platform makes it easy to customize landing pages, forms, pop-ups, etc., to get your customers the most relevant information. Whether you opt to design your own or use one of the many templates, Elementor Pro helps you maximize your conversions by giving you many options regarding how and when content is displayed. Additionally, you'll have the ability to seamlessly integrate numerous marketing tools such as HubSpot, MailChimp, ConvertKit, and many more, helping create a specific customer experience.
Easy eCommerce Integration
WooCommerce, one of the most popular platforms for online selling, can be easily integrated using Elementor Pro. Everything you need to sell your products are available from your products, ratings, descriptions, images, menus, carts, and checkout. Simply connect your WooCommerce account, use the relevant widgets when creating your site, and drag them where you want them to create a site that helps your products shine. Keep in mind that Elementor Pro gives you the ability to customize each step of the purchasing process completely. This includes customizing how you display your products, the information shared on the product page, your cart, and your checkout page, all in an attempt to help you keep cohesiveness throughout your entire site.
Attention-Grabbing Animations
Even though a static webpage can get the job done, they usually aren't the most exciting sites to visit. Your site can become much more interesting by adding in a bit of animation and effects. Elementor Pro makes it easy to add interactive features and animations that help add life to your website to better express what your brand is all about. Some of the most common animation elements include scrolling effects such as Parallax, Scale, and Rotate effects. Mouse effects are also popular, allowing elements to move in relation to a user's mouse movements. Other animations available with Elementor Pro are Lottie animations and transforming elements when a visitor hovers over them. Like other design aspects, the Pro version of Elementor makes it easy to add these features.
Total Customization
While Elementor Pro offers many templates and widgets that can make your site look and function great, there is still a limit to what can be accomplished. To give you the flexibility that you need to truly customize your site, one of the features of Elementor Pro is the ability to insert custom code. Not only does this allow you to make adjustments to the appearance of various elements on your site, but you can also insert important tracking codes (like Google Analytics or Facebook) to understand your users better. Rather than going into theme files to make adjustments or to add these elements in, the website builder lets you easily add this code through the WordPress dashboard.
Human Support Available
Elementor Pro is a website builder that is designed to be helpful for all skill levels. This being said, no matter what level your skills are, you may find yourself stuck. There are numerous resources available, from blog posts to videos to forums, to help you use the different Pro features. However, if you still have questions, the Pro version also has a premium support team that will help answer your questions quickly. The support team is made up of real human beings ready to understand the issue you are having and provide actual assistance, rather than just sending the automated responses you find with other website builders.
So Is Elementor Pro Worth It?
If you need a basic website for a personal blog, then the free version of Elementor is probably sufficient. However, if you are looking to sell a product or a service, Elementor Pro is definitely worth the investment. Elementor is a great way to get a professional-looking website without the cost of hiring a pro. The simple drag-and-drop interface makes it easy to create a top-notch website. Plus, it gives you the tools you need to create a truly remarkable online experience for your customers, which is essential in today's age of online shopping. Even if you already have a website, Elementor Pro can give your site the upgrade it needs to help take your business to the next level.