Over recent decades, video content has become one of the most important ways for marketers, influencers, creators, and educators to get their message out there. YouTube, TikTok, Instagram reels and other clip formats have become, for many, a primary avenue for getting their news, entertainment, and interesting info about what else is going on in the world.
It's no surprise, therefore, that the promising abilities of AI have been brought to bear on video making, with a range of AI-enabled tools available to help web users create fresh video content with far less effort than was previously needed.
Gone are the days when a technical knowledge of clip editing or production-suites is required to create sleek, functional YouTube pieces. Now, various products and services offer to produce video content for you at the click of a button, helping to keep readers focused on your blog, product page, website, or social media channel.
Fliki AI Video Creator is one such tool. It promises to generate attractive, professional, 'faceless' videos using a sprawling library of stock media, images, and music, as well as an impressive array of artificial voiceover styles.
Today, we'll be taking a closer look at some of Fliki's functionality, as well as how much it costs, who stands to benefit from it the most, and where its limitations might be.
Who are the makers of Fliki AI Video Creator?
Fliki was founded in early 2022 by Atul Yadav and Sabir Ahmed, both seasoned full-stack developers with previous experience of having founded other tech start-ups, including the generative AI writing tool Rytr.
Who is Fliki AI Video Creator designed for?
Fliki's stated aim is to streamline video content creation so that bloggers, marketers, promoters, and educators can produce catchy, 'no face' video content to scale.
'No face' means a video that does not involve a human speaking directly to the camera, combining instead images, diagrams, graphics, or video clips whilst an invisible narrator, or voiceover, delivers the core script.
The advantage of such videos, as suggested by Fliki, is that they encourage the viewer to focus on the content and information at hand, rather than distracting them with unnecessary human elements.
The types of videos Fliki can be used to create could prove useful for a range of people. Business leaders, presenters, advertisers, teachers, and web designers all stand to benefit from being able to share information in a form that combines straightforward visuals with clear, effective voiceovers.
Whether you're a manager looking to create an introductory video to help with staff on-boarding, or a high school history teacher trying to help students remember the events leading up to the Second World War, or a marketer looking for a way to promote and showcase a new product, Fliki can significantly streamline the process.
The Fliki software is designed to produce videos for a range of popular platforms, including YouTube, TikTok, and Instagram, and can also be used to generate audio-only formats, like audiobooks and podcasts.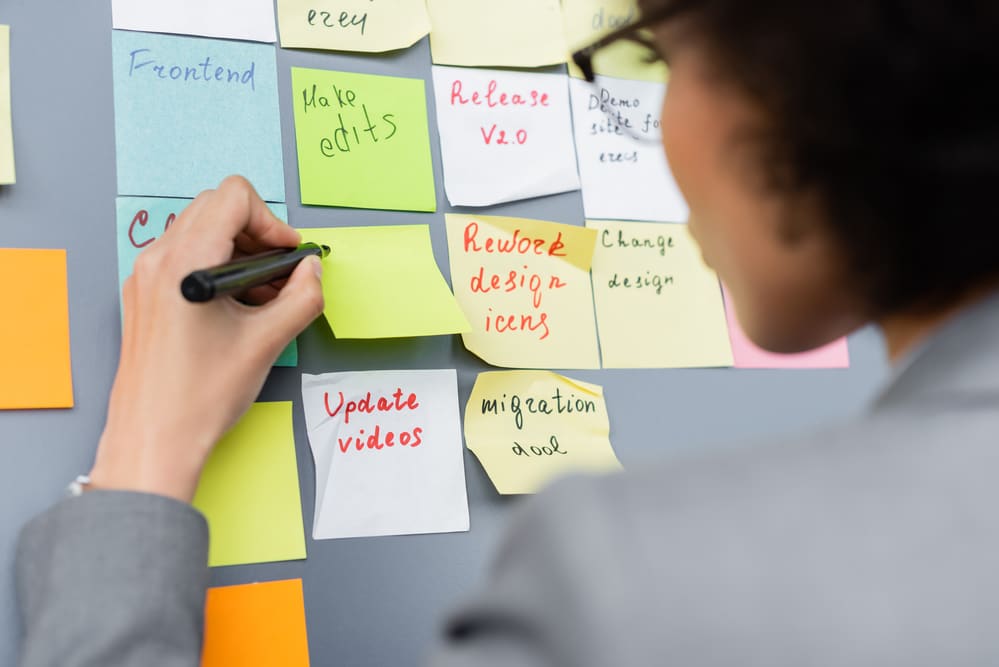 What are Fliki AI Video Creator's core features?
Fliki consists of an intuitive, straightforward dashboard within which you can generate, edit, and export videos of varying lengths.
You start by providing the software with text that it can use as a script. You can either type the script in directly, or link the software to a pre-existing tweet, blog post, or Power Point presentation for it to base its script generation on.
Once your text has been formed, you can then split and edit the content into separate 'scenes', over which you can easily layer video clips and background music. There are also options to produce just voiceovers without visual media, allowing you to generate podcasts or audiobooks at the click of a button.
Fliki boasts an impressive, royalty-free library of stock video clips that can be searched through via keywords, or you can upload your own images and media.
If you don't want to record a script yourself, the AI-enabled voiceover feature takes care of all that for you. In terms of voiceover styles, the number you have access to will depend on your subscription level, but even the standard subscription comes with more than 850 to choose from, spanning over 75 languages.
There's also an impressive spread of pronunciation editing tools, allowing you to adjust the speed of the AI voiceover, emphasize certain words or phrases, insert pauses, and more.
In terms of visual design settings, Fliki allows you to scale, color and position subtitles, as well as choose the dimensions of your video to suit different platforms.
Voice cloning is also available with a premium subscription, allowing you to record your own voice so that the AI-tool can use it to generate complete voiceovers, saving you from having to record them all yourself.
What are the advantages of Fliki AI Video Creator?
Many users have praised the high quality of the AI voiceover styles on offer. AI technology in this region has improved markedly in recent years and this is in evidence here, with some of the best voices sounding virtually indistinguishable from real human recordings.
Fliki have also focused on developing different emotional deliveries, allowing you to choose narrators exhibiting sadness, joy, and plenty in between.
The speed with which videos are generated is also impressive and is likely to be particularly attractive to those looking to create quick and effective video content for sharing information, accompanying blog posts, or promoting products and services.
What are the disadvantages of Fliki AI Video Creator?
Fliki doesn't come with its own generative text feature, meaning if you're looking for a complete package that builds scripts out of simple prompts you'll be disappointed. You can, however, use other widely available AI generative tools like ChatGPT to produce scripts before loading them into Fliki, or write your own.
Fliki does have a feature where it attempts to summarize and order pre-existing blog posts. With longer written articles, the software can sometimes struggle to do this effectively, and you will need to ensure that you edit any such copy carefully.
The AI voiceover tool can also trip up when reading things such as numbered lists or bullet points, sometimes running numbers or words together without taking necessary pauses. Again, making sure you watch your generated videos carefully several times through to iron out any inadvertent slips is crucial. Nothing signals computer generated content more than a robotic failure to read text that a human would instinctively know how to pronounce and pace.
What alternatives are there to Fliki AI Video Creator?
Fliki attempts to distinguish itself from the competition by offering a combined text-to-video and text-to-speech package. Many AI-tools on the market offer text-to-video or text-to-speech in isolation.
That being said, there are a number of competitors offering relatively comprehensive video generating solutions to rival Fliki. Some popular services include Lovo, Listnr, Murf and Play HT.
Fliki provide comparison charts on their website to help users see what their product has to offer in relation to some of their major competitors.
How much does Fliki AI Video Creator cost?
The price of a Fliki subscription appears to have varied since the company was first founded, but at this time there are three main packages customers can choose from.
A free subscription to the software allows you to generate up to 5 minutes of video a month, but at lower video quality, and with a whole host of premium features removed.
A standard subscription currently costs $21 a month. This gives you higher resolution video generation, 180 credit minutes a month, and access to a much wider range of voiceovers and editing tools.
A premium subscription costs $66 a month, carrying 600 credit minutes, the full range of media and voiceovers, and additional features such as voice cloning and API access.