Quick summary: Elementor Cloud Website provides an end-to-end solution for website creators which pairs its renowned no-code builder with its new premium hosting service.
Last month Elementor finally launched it's new offering called Elementor Cloud Website. This new service from Elementor allows you to get everything you need to build a website with a single purchase. Along the lines of signing up for Weebly or Wix, Elementor is now in the website builder service business. Elementor has offered a visual no-code plugin within WordPress for about 10 years now. But users still needed to sign up with a hosting provider. But now Elementor offers hosting, wordpress pre-installed, and the Elementor Pro web builder in a single package – Elementor Cloud Website.
Over 400 million websites have been created using WordPress (that's over 30% of all sites). And with over 10 million active downloads, today over 7.1% of the world's top 10 million websites are powered by Elementor. This is a force to be reckoned with, and web designers are aware of it. Web designers and developers demand an open-source ecosystem, with a secure and high-performing hosting service, where they can build websites freely. Elementor Cloud Website is exactly that. With secure built-in hosting, Elementor Cloud Website empowers web creators to focus on what matters — creating their perfect website.
A WordPress Gamechanger?
When you make a website, you have to deal with a lot of factors – integrating hosting, domains, the platform, and finally building the website. The Elementor Cloud Website product solves this challenge by providing users with a streamlined package that makes building websites faster and more efficient.
Elementor's Cloud Website is a great option for Web Creators who want to focus on creating their website hassle-free since they get one cost-effective end-to-end solution under one roof. Similarly, it can also be ideal for anyone building websites for clients, as it enables a straightforward handoff process and simplifies maintenance.
Start building a website right away with Elementor Cloud greatly simplifies the setup process. It comes preinstalled with the WordPress CMS, Elementor Pro features, and themes. You also get secure built-in hosting from Google Cloud Platform, plenty of storage, plus the choice to connect it to any custom domain at no extra cost. As Elementor covers the technical logistics, all that's left to do is add your personal touch and launch.
Loaded With Everything You Need
On top of Elementor's renowned Drag & Drop Live Editor, Responsive Design, 100+ Widgets, 300+ Templates, 60+ Website Kits, Hello Theme, Theme Builder, Popup Builder, Form Builder, WooCommerce Builder, and much more, the Elementor Cloud Website enables you to now create a new website with a single built-in hosting solution which includes:
Instant Setup — WordPress CMS, Elementor Pro features, and Hello Theme are pre-installed and activated.
Google Cloud Platform — Powered by Google Cloud Platform and interconnected over their premium tier network, resulting in fast and secure transport of your data.
SSL Certification — Built-in free SSL from Cloudflare. You can also install your own certificate if required.
CDN by Cloudflare — Powered by Cloudflare CDN, your website content is stored in over 200 locations globally so it responds quickly wherever your visitors are.
20GB Storage — To keep all your content.
100GB Bandwidth – Offering visitors a top website experience.
100K Monthly Visits — Measured by the total monthly unique traffic (IPs) to your website on the server.
Backup — Websites are backed up automatically nightly and stored for 14 days. You can also create a manual backup point before installing a new theme or plugin update. Restore any backup at any time from your website management dashboard.
Free Elementor Subdomain — Receive a free subdomain under "elementor.cloud".
Custom Domain — Connect as many custom domains as you need to your Elementor Website for free. Domains can be purchased with any domain provider.
Support — Elementor Cloud Websites include 24/7 live chat and Premium Support team that will be there to answer questions regarding both hosting and the editor. All questions will be answered within one day on average.
Since all Elementor Cloud Websites include Elementor Pro features built-in, Web Creators can also enjoy Elementors 20+ Integrations, Live Custom CSS, Custom Headers & Footers, Custom 404 Pages, Global Widgets, Post & Portfolio Widgets, Price Tables & Price Lists, Custom Field Integrations, Interactive Carousels, Role Manager, Custom Fonts, Custom Icons, Sticky Elements, Embed Anywhere, and more.
An Elementor Cloud Website provides an all-in-one solution that includes all the benefits of Elementor Pro features along with hosting and WordPress installation. Web Creators will also receive the added benefit of getting support for everything, from the Editor to Hosting, all in one place. Its instant setup means a hassle-free experience that saves Web Creators time, allowing them to fully focus on building a beautiful website.
Setting Up Elementor Cloud Website
When you first setup your Elementor Cloud site, you will be asked to enter a name for your website. You can change this later. Just enter anything for now to get started.
The domain of your site will be created based on the name you just gave it. If you already have a domain name reserved, you can link it to your site later.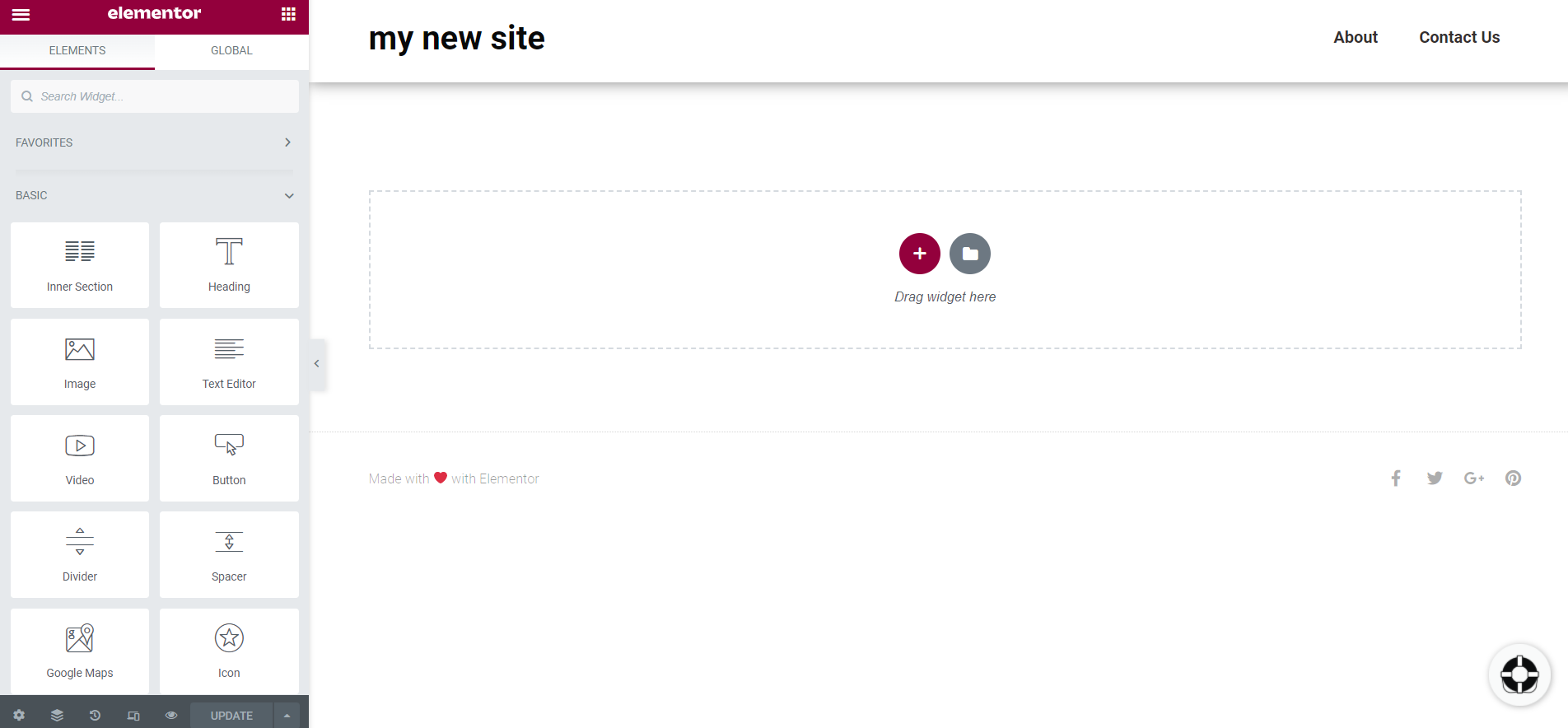 Once your Cloud site is setup, the admin area looks the same as any other site with Elementor. Just drag the blocks you want to include onto your page and then edit.
The WordPress dashboard of your Elementor Cloud site looks the same as any other WordPress site. You still can include any plugin and theme, edit users and settings, etc.
After your site is created, the fastest way to create a fantastic looking site is to use one of Elementor's themes in their kit library. Just apply their kit, then edit the details to make it your own.
That's it. Now you have a professional looking website without paying a professional price.
Does Elementor Cloud Include Email?
Yes. The subscription includes up to 100 emails per day sent from your website. This includes form submission emails, purchase confirmation emails, admin notifications etc.
Elementor Cloud Pricing
This new service from Elementor (hosting + wordpress + Elementor Pro) costs $99 per year. For a single website the Elementor Pro plugin by itself costs $49 per year. So basically the cost of the hosting part of this package is $50 per year. The high quality web hosting provided by Elementor, if you were to go and buy it separately, would be at least twice that much. So if you're wondering if Elementor Cloud is worth the cost, I would say yes it is. Even if you signup up with Weebly (the package most comparable), the cost would be $144 per year (Wix is even more expensive). And the huge advantage offered by Elementor Cloud is that the whole world of WordPress plugins is available to you.
Is There a Free Trial of Elementor Cloud
No. Elementor Cloud has no trial period, but they do offer a 30-day money back guarantee with no strings attached.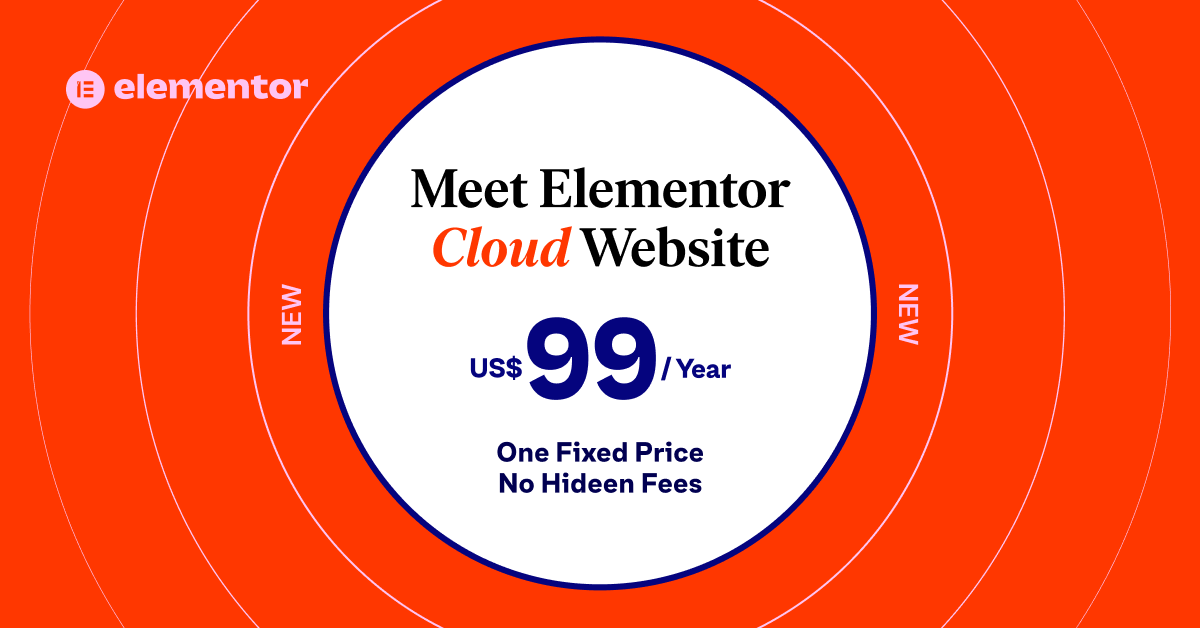 This Is the World of WordPress Tomorrow
Elementor is unique as it began during the trailblazing plugin era, whereas other page and website builders started as sheltered hosting providers. It has the mindset, culture, and organizational structure to transform from a product company into a cloud company. From a plugin to a product to a platform.
Elementor Cloud Website is set to revolutionize how WordPress website projects are organized. By streamlining their workflow, removing technical setup barriers, simplifying hand-off to clients, and, of course, publishing. Elementor now offers Web Creators a solution that lets them focus on what they do best: Create websites and design their future.